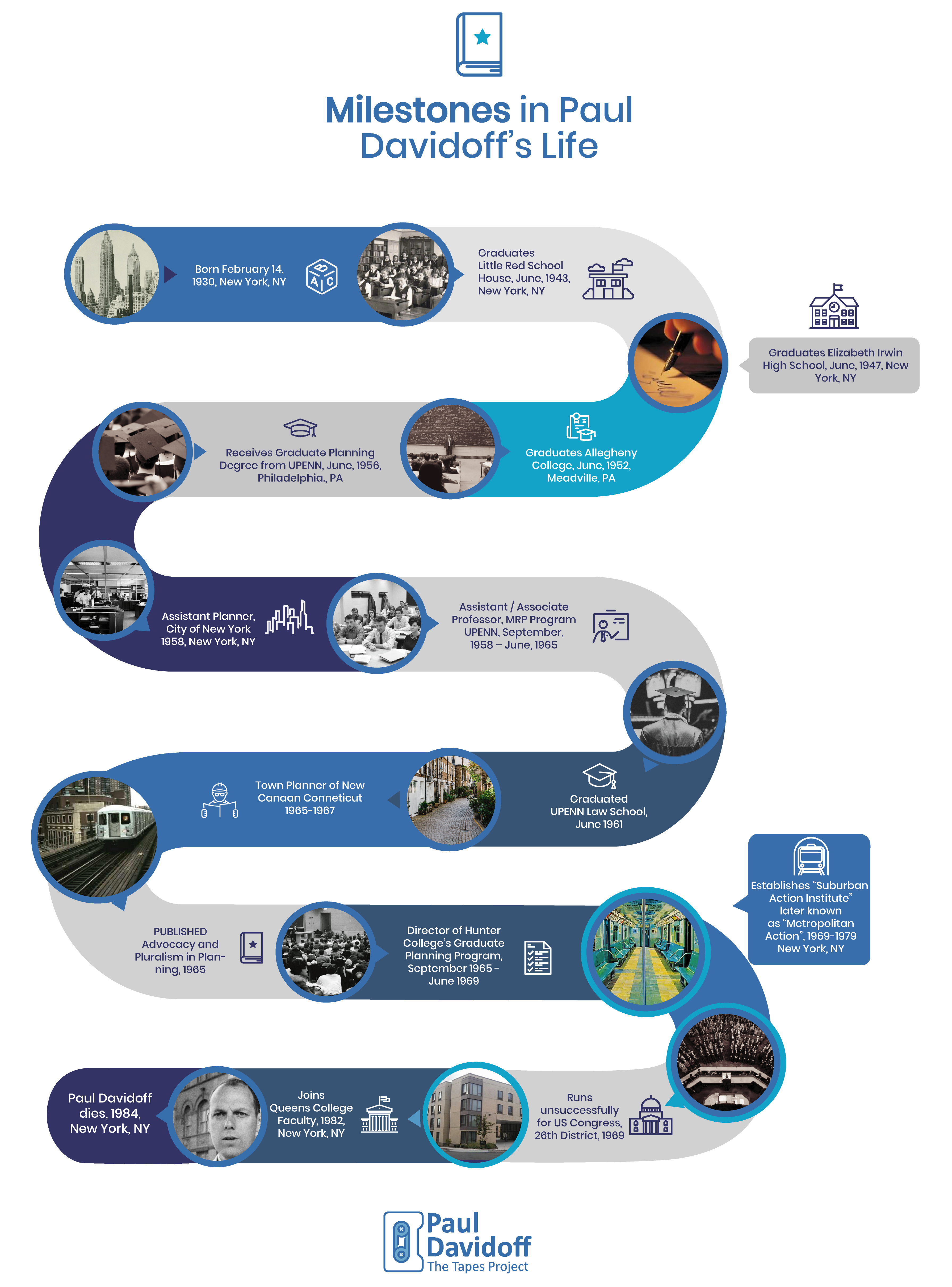 Paul Davidoff:
"An Appreciation"
by Prof. Hartman, Chester
Citation: Hartman, Chester. 2002. Between Eminence and Notoriety: Four Decades of Radical Urban Planning. New Brunswick, NJ: Center for Urban Policy Research, Rutgers University, pp. 355-356
Paul's parents and brother
Paul was the younger of two sons born to Dr. Bernard Davidoff, an obstetrician-gynecologist, and Mildred Cohn Davidoff. They raised their sons in Sunnyside Gardens, one of the earliest U.S. planned communities located in Queens, N.Y. Paul's brother, Jerry (1926-2009), was a highly regarded attorney in Westport, Connecticut, and a national leader in the Unitarian Universalist Association of Congregations. Jerry also served on the Westport Board of Education and in the Westport Representative Town Meeting. Jerry's wife, Denise Taft Davidoff (1932-2017), owned a highly successful Connecticut advertising agency and later served in many national UU denominational offices including two terms (1994-2002) as "Moderator," the senior elected volunteer position in the denomination, making her presiding officer of the liberal religious movement for eight years.
Paul's Family
Paul was married to Mary "Rusty" Miller in New York City on June 12, 1952. They had three children, Susan, Adam and Carla. During a family car trip to President John F. Kennedy's Memorial and Colonial Williamsburg in Virginia, they were involved in a tragic car accident which claimed the lives of Paul's wife and six-year-old son, Adam.
in 1964, Paul married, Linda Greenberg, a fellow UPENN alumni, who was a highly regarded planner and environmental activist. Together they had two children Daniel Kirk and Thomas. Linda Davidoff passed away on December 31, 2003 following a long career working for progressive causes. Paul is survived by his daughters from his first marriage, Susan and Carla, and his sons from his second marriage, Daniel Kirk and Thomas.
Susan Davidoff lives in Newton, MA with her family. She is a retired school consultant for inclusion and an active Board Member of Progressive Massachusetts. Carla Davidoff is the owner/operator of Broome and Allen, a popular antiques store in New Paltz, New York where she lives. Daniel-Kirk Davidoff recently joined UL International in Albany, NY where he works on safe, sustainable, and renewable energy initiatives as a Lead Research Scientist. Thomas Davidoff is an Associate Professor in the Sauder School of Business at the University of British Columbia. Before joining the UBC faculty, he was an Assistant Professor in the Haas School of Business at the University of California Berkeley.
In addition to being an important scholar, planning educator, planning practitioner and Civil Rights activist, Paul Davidoff created and inspired others to launch organizations and institutions committed to advancing racial equality, social justice, and democratic decision-making within our nation's major Metropolitan Areas. The following section identifies and describes a number of organizations that Paul Davidoff helped to create.